Dental Implants in Panama City, Florida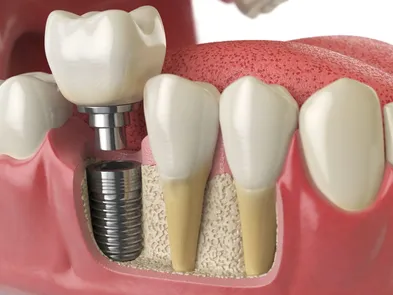 The only dental office in Panama City, FL that can place either titanium or ceramic dental implants! Our implants are carefully planned and staged to create a painless dental implant experience which results in the most beautiful smile. Trust the dental experts who have placed dental implants on those as young as 18 and some as old as 95! We even placed a dental implant on a pregnant mother. Here is her review on Google:
"Had a dental implant and new crown on a separate tooth and it was pleasant! Crown was made in office to match tooth color same day and implant surgery done no pain! I'm 6 months pregnant so it was so great to have this done with no issues and staff and dentist were all great and friendly! This is the day after I did this review and I have no issues. If you are looking for great dental services this is the place to go I didn't need to be put under only local since I'm pregnant so it was awesome thanks doctor A!"
Talk about a tough mother!
No reason to talk up our services when we have unpaid reviews that say it better than we can:
"It's been a few months since I had my implant, root canals, and crowns seated. I am so, so pleased with my outcome. No more sensitivity of my teeth to deal with. And they look great! Dr A and his staff were a pleasure to go to. I definitely recommend Baytown Dental for all your dental needs. They have cutting edge technology that most dentists in Panama City do not have. Worth every penny..❤"

"Implant installation procedure was quick and painless. No pain or discomfort resulting from the procedure."
"My dental implant was put in by this office and I must say that I am very pleased with this work. Oh yeah I also had a root canal on my back tooth, that [went] smoothly too. Thank You Baytown Dental"
Here is another testimonial:
"Had an implant.. What [a] GREAT experience ... Had [been] to other dentist... And to me these people are the best!! Very professional.. Always a great attitude.. Staff fantastic all the way.. As we all know there's several steps to having an implant... Very caring..."
As your trusted dental advisor, it is our job to tell you when a tooth can't be saved despite your excellent oral hygiene practices and commitment to routine exams and cleanings. Whether you're facing an extraction or have lost teeth because of an unexpected accident or decay, we have a permanent, restorative solution that will give you back your beautiful, natural-looking smile.
Dental implants are a permanent and appealing solution to replace missing or extracted teeth. They are better than other alternatives like bridges because no additional teeth need to be altered to place the new tooth.
The entire implant process is performed over the course of a few months. The first part of the process is to install the implant itself, where a bio-compatible implant is placed where the root of your old tooth used to be. Multiple implants can be placed at once if necessary.
The implant must be allowed to heal, and during this time the jaw bone will form around the implant in a process called osseointegration. During this healing time you can have temporary crowns installed so that you can eat and speak normally and maintain a proper aesthetic appearance for your smile.
After the implant has healed it is time to place an abutment on the implant. The abutment serves as the base for your new tooth. Once this is placed an impression of the abutment is taken and is used to create your permanent restoration. Your smile will look just like it used to, and it will feel just like one of your own teeth.
With proper care and maintenance, dental implants can last a life-time. At Baytown Dental Center we guide you through the care and maintenance of your dental implants at each stage.
IMPLANT vs BRIDGE